Aurora Aesthetics merges the art and science of beauty.
Aurora Aesthetics represents the vision and passion of its founders, mother and daughter team Dr. Gilda Bowdridge and Cynthia Nagy-Dejenariu, who believe that rejuvenating the body and soul results in enduring well-being. Each Aurora Aesthetics client receives a complimentary consultation before any treatment is started. We get to know you and your needs so we can suggest a personalized, solution-oriented treatment plan. Discretion is assured.
---
Dr. Gilda Bowdridge, MD, CCFP
Co-Owner, Physician Injector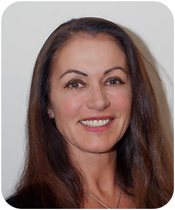 Dr. Gilda Bowdridge was a family physician in Romania before moving to Halifax with her family in 1987. She worked in the Neonatal Unit at the IWK (Grace) before completing her residency in Family Medicine at Dalhousie University. Dr. Bowdridge practiced Family Medicine in Nova Scotia from 2000 until her retirement in 2020. In 2007 she teamed up with her daughter, Cynthia Nagy-Dejenariu to launch Aurora Aesthetics. Dr. Bowdridge completed advanced courses in Botox Cosmetic and Dermal Fillers from KAPPS Aesthetic Training in Toronto run by Dr. Mark Baily and continues to stay on top of new techniques in Botox and Dermal Fillers through Allergan Academy workshops.
When Dr. Bowdridge is not beautifying Halifax at Aurora Aesthetics, her passions include ballroom dancing, travelling, spending time in nature, entertaining her grandkids and enjoying the lake at her retirement home in Chester Basin, where she resides with her husband.
---
Cynthia Nagy-Dejenariu
Co-Owner, Laser Technician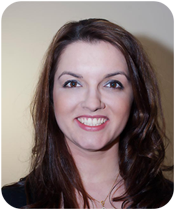 Cynthia Nagy-Dejenariu completed a Bachelor of Science from Dalhousie University and worked in retail management and pharmaceutical sales before completely switching career paths to embark on a new journey into cosmetic laser technology and business. She received her laser training from Cynosure Laser Systems and Aurora Aesthetics opened its doors in 2007. Since then, Cynthia has performed over 40,000 laser treatments and continues to stay on top of new techniques, trends and technologies through continuing education workshops and seminars.
Outside of Aurora Aesthetics, Cynthia enjoys travelling, practicing yoga, spending time by the ocean and a good glass of wine. Cynthia resides in Halifax with her fiancé and they are expecting a baby girl in May 2021.
---
Sandra Manthorne
Laser Technician, Client Coordinator

Sandra Manthorne has been in the hospitality industry for over 30 years and has successfully managed some of the top restaurants and nightclubs in Canada. Sandra's interest in the beauty industry sparked when she spent some time managing an Aveda Spa. Sandra completed her laser training from Cynosure Laser Systems and has studied laser extensively under the direction of Cynthia Nagy-Dejenariu. With her passion for the industry, impeccable customer service and attention to detail, Sandra is a natural fit for Aurora Aesthetics.
When Sandra isn't working she enjoys travelling to her favorite place in the world, Paris. She loves everything that Paris entails, from great wine, cheese and of course "macarons". She also enjoys yoga and the great outdoors.
---